2 boneless skinless chicken breasts
2 tbsp brown sugar
1/4 tsp garlic powder
1 tbsp olive oil
When I told my Mom I was making baked garlic brown sugar chicken she said it sounded extremely odd. When I first heard of combining brown sugar and garlic I thought it was odd as well, but I'm always up for trying new things. When my sister and I were kids our step mom introduced us to strawberries dipped in sour cream and then dipped into brown sugar – which sounds absolutely repulsive but it's one of the best things I've ever tried! That being said I recommend trying this to liven up your bland chicken breasts one night and I guarantee you will enjoy it.
This is all it takes to make your rub! There's no excuse not to try this recipe, you already have the ingredients in your pantry!
Directions
Mix your garlic powder and brown sugar together then add in your olive oil. Mix it until it is the consistency of an exfoliating scrub

Don't rub it on your skin though, unless you want to smell like a vampire hunter.
Rub this mixture liberally over both of your chicken breasts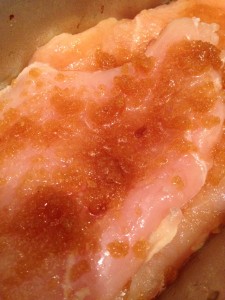 Bake these in a 350 degree oven for 30-45 minutes depending on the thickness of your chicken breasts, mine went in for 35 minutes and came out super juicy!
Mmmm, doesn't it make you hungry looking at it? So glorious! I'm really impressed with this quick and easy recipe.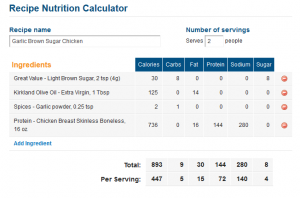 *Click nutrition image to enlarge*
Thank you guys for reading! As always please don't forget to share this recipe with your friends and family.