Hey everyone! I didn't plan on posting new recipes/ideas until Nick updated my website, but for those of you who know Nick he is king of procrastination so I won't hold my breath on getting that done any time soon! So we'll post on the boring website for the time being.
Today I'm going to tell you guys how to make cheap homemade taco bowls made out of store bought tortillas, feel free to make your own however – I did once a couple years ago, they were really easy and yummy to make. FLASHBACK PHOTO!
Okay so I  did some Facebook searching for that one. Turns out it was April 26,2012. A year and a half ago, feels like a lot longer holy smokes – anyways I'll give you guys the recipe for those soon! That's not what we're talking about today!
So do you ever want to make a taco salad in those cute little taco bowls but either can't find them in the grocery store or you can't justify spending the extra money just to get shaped tortilla shells? Yeah same! So I learned how to make my own taco bowls!
All you need are your soft tortillas and a muffin pan!
Flip your muffin pan upside down and arrange your tortillas so they look like this.
Bake for 5 minutes in a 450 degree oven and they will look like this:
They are easily stacked also, so you can stick them in a container and hold on to them for a day or two
Now you fill them with your taco salad or whatever your heart desires!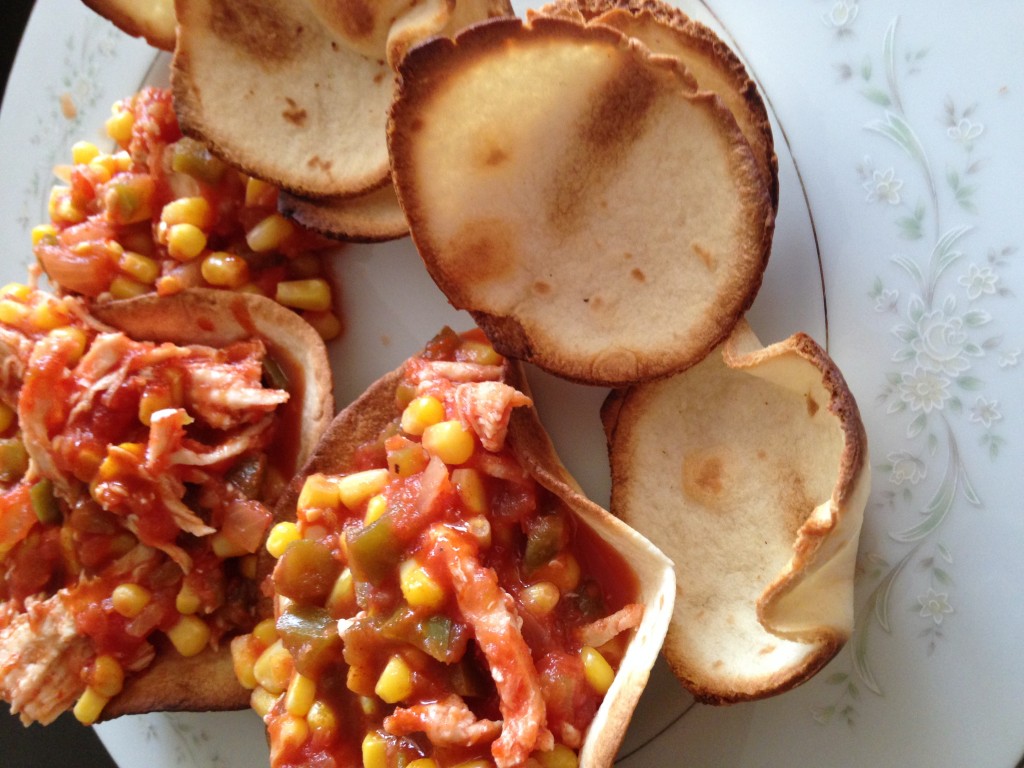 In the next blog post I will teach you how to make the chips, however it's not too hard to figure out on your own 😉
I have to tell you guys these tasted amazing. SO amazing. I normally opt for the soft tacos when I have Mexican food but soft shells baked like this get so nice a crispy and they are simply the best.
If you guys try this technique let me know, and don't forget to post your pictures for me to share on my Facebook page
www.facebook.com/cheapchef
Thank you so much for reading, have a great day!