1 package penne
2 cups shredded cheddar cheese
2-3 turkey sausages
1 jar tomato sauce
Red pepper flakes
Parmesan Cheese
This warm ooey-gooey comfort food was the perfect Thursday night dinner. In fact it was so good, it was the perfect Friday night dinner as well. Here is the recipe for cheesy baked penne with turkey sausage:
The thing with this recipe is that you're essentially "winging it." Did I measure any of the ingredients in this recipe? Absolutely not. I did it to my liking, so keep that in mind!
Preheat your oven to 350 degrees. Bring a pot of water to a boil. Once boiling, cook your penne according to package directions.
While your penne is cooking, add your sausage links to a pan over medium heat. I left them in the casing but I think next time I'll take them out. Break your sausage up in the pan.
When your sausage is browned add your tomato sauce to the pan and simmer it.
When your penne is done, strain it and add it to the pan with the sausage and sauce and mix it up.
Add half of your pasta to a baking dish  and top it with half the cheese. Repeat this with the remaining half of the pasta and cheese.
Bake in the oven for 15 minutes.
Let stand for 5 minutes.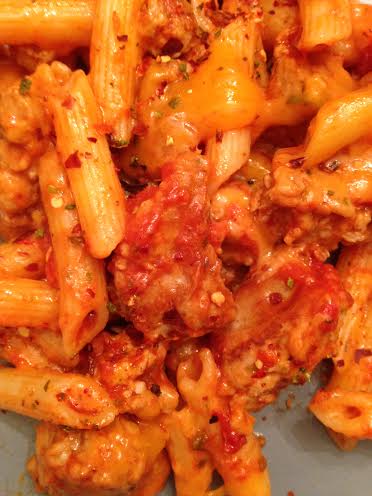 Top with red pepper flakes and parmesan cheese!
Thank you for reading, don't forget to like my Facebook page here to be updated when new recipes are posted: Cheap Chef
Don't forget to share with your friends!