2 Pints Cherry Tomatoes
1 Jar Kalamata Olives
1 Medium Red Onion
2 Long English Cucumbers
200G Feta Cheese
1/4 Cup Olive Oil
1/4 Cup Balsamic Vinegar
Greek food is one of my favourites, I especially love this easy Greek salad recipe because it's CHEAP and comes together in less than 10 minutes! Not to mention it's chalked full of healthy vegetables and super low calorie!
I made a big batch because it keeps really well in the fridge, any salad that doesn't have lettuce in it tends to keep for up to 3 days. Note, real authentic Greek salad has NO lettuce in it, do not be fooled by imposter salads!
Throw your veggies in a large bowl,  roughly chop your cucumber and onion. Crumble in your feta cheese. Pour your olive oil and balsamic vinegar over your veggies and toss with your hands. Half a cup of dressing may not seem like a lot for this amount of vegetables but trust me, a little bit here goes a LONG way!  Refrigerate for half an hour for optimum flavour.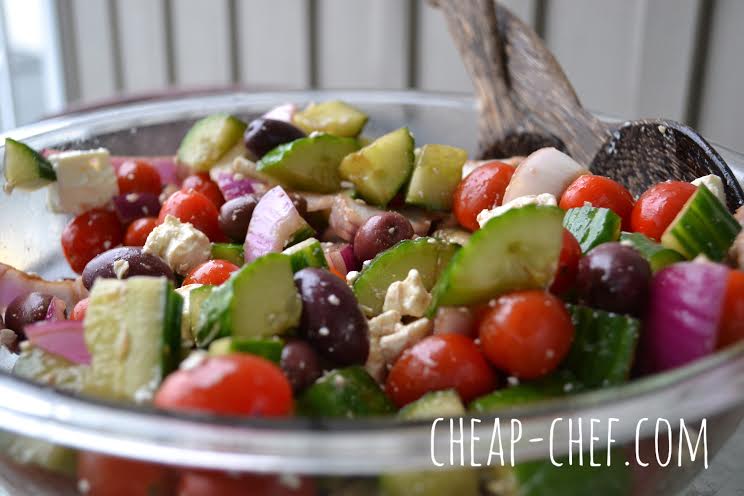 This  easy Greek salad recipe would be great along side some pita bread with tzatziki or even some Greek style French fries! Perhaps some Cheap and Easy Apple Crisp for dessert! Enjoy, and please don't forget to share with your friends!