2 tsp crushed garlic
1/4 cup olive oil
1/4 cup bread crumbs
1/4 cup parmesan cheese
3 boneless skinless chicken breasts
This recipe for Garlic Parmesan Chicken will you have you wanting more and fending off vampires, except the sparkly ones.
Preheat your oven to 425 degrees.
Combine your garlic and olive oil. In a separate dish combine your bread crumbs (fine or panko will work) and parmesan cheese. Make sure you use the powdered parmesan, not freshly grated. This is probably the only time I'll tell you to do that 😉
Dip your chicken into your olive oil and into the breadcrumb mixture.
Place in a shallow baking dish and baked for 35 minutes or until chicken is fully cooked.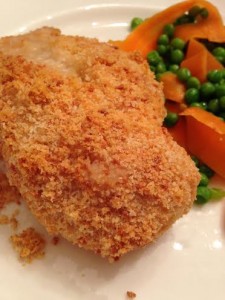 This is such an easy and delicious dinner. If you try it make sure to send me pictures on my Facebook page www.facebook.com/cheapchef
Please don't forget to share this recipe with your friends!