1 Cup Flour
2 tsp baking powder
1/ 4 tsp salt
1 tbsp butter or margarine
1/3 cup water or milk
My Grandma has a recipe book tucked beside her microwave. Well, it's usually there. It hasn't been lately. Instead it's been sitting next to her spot on the couch because I Skype her so frequently asking for recipes. This last Friday, I asked her for her dumpling recipe. I love everything my Grandma cooks and I knew that Nick would be excited if I made dumplings along with our chicken and pan gravy (Click here for recipe)
Directions
Cut the butter into the flour, baking powder and salt.
Add milk/water slowly and mix it well.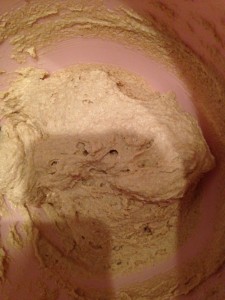 Drop from a tablespoon on top of a liquid, I used about 2 inches of chicken broth – you can do this over anything just don't let them sink to the bottom, they need to stay on top of the liquid.
Cover and let them steam in the liquid for 10 minutes, do not remove the lid.
Serve them up with some chicken & gravy and you've got yourself a delicious, comforting meal.
Thank you for reading, please don't forget to share this post with your friends and family!