3 boneless skinless chicken breasts 
400 ml coconut milk
2 cups frozen pre-cut vegetables
3 tbsp curry powder 
1 tsp cayenne pepper
1 clove garlic, chopped
On January 16th I brought my beautiful baby boy into this world, and since then I have definitely been struggling to find the time to make dinner. I'm finally starting to get into the swing of things, however I need to come up with super quick, easy dinner ideas. Last night I came up with this super easy, cheap and quick chicken curry recipe on the fly. It turned out really delicious and another bonus is that it's completely healthy and low calorie (which is helpful for losing the post-baby weight, not that losing weight is my top priority right now.)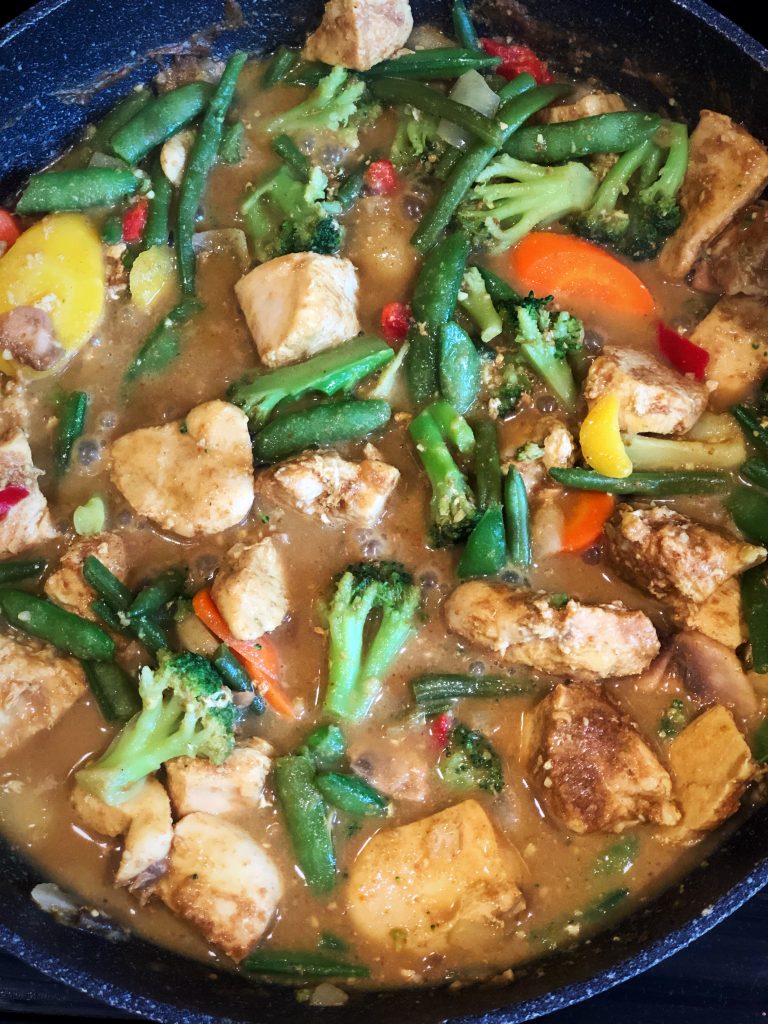 Quick Chicken Curry Recipe
Ingredients
Serves 2
3 boneless skinless chicken breasts
400 ml coconut milk
2 cups frozen pre-cut vegetables
3 tbsp curry powder
1 tsp cayenne pepper
1 clove garlic, chopped
Directions for Quick Chicken Curry
Cut chicken into bite sized chunks, season with cayenne pepper. Add to frying pan with chopped garlic and cook over medium high heat
When chicken is cooked, pour in coconut milk and add curry powder.
Stir in frozen vegetables and reduce to a simmer for 10-15 minutes
Note: I used the frozen "stir fry" vegetable mix with carrots, peas, green beans, broccoli, water chestnuts (sorry mom, I know you think they taste like cockroaches), ect.
Serve over rice or with naan bread – or both! Carb it up, friends!
Thanks for reading, do me a favour and share this recipe with your friends! Help my little blog grow, my baby needs diapers! (Kidding, maybe)